Travel
5 Must Visit Fishing Villages in Cornwall, England
Located in the southwest of England, Cornwall is best known for its beaches and picturesque fishing villages. As you explore these villages you will see old houses, colourful cottages, harbours built long ago that are still functional, beautiful green scenery that can be a welcome change, historic sites, castles, gardens, and much more.
There are so many places to explore, so many activities to do, so many Cornish delicacies to try, and so many memories to make. So put on your hats, take your camera and let's go explore these 5 picturesque fishing villages.
Tintagel
Tintagel is one of the most visited places in Britain. Tintagel is located at the north of Cornwall on the Atlantic coast. Tintagel is famous because it is associated with the legend of King Arthur. On the coastline clinging onto a rugged landscape overlooking the Atlantic Ocean, you will find the ruins of the legendary Arthurian Castle, the Castle of Tintagel. It is said to be the birthplace of King Arthur and where most of his legends took place. Inside the castle, there is a statue of King Arthur with his Excalibur. If you love the Arthurian legends and medieval stories, then this place is worth a visit.
If you're visiting Tintagel, you should also visit Boscastle. It's a small port north of Tintagel that is ten minutes away. It has a natural harbour and a stretch of coastline which is breathtakingly beautiful.
Other places to visit in Tintagel are King Arthur's Great Halls, built in the 1930's by Order of the Fellowship of the Knights of the Round Table (a social organisation) on Fore Street, The Old Post Office, Merlin's Cave, Rocky Valley, Museum of Witchcraft & Magic, St Nectan's Glen and much more. Tintagel is home to so many attractions and interesting places to explore, that it should be at the top of your itinerary whenever you visit Cornwall.
Mevagissey
This quaint village is the second largest fishing village in Cornwall. Located on the southern coast of Cornwall, Mevagissey has a working harbour which has been around since the19th century. The Mevagissey harbour is the main attraction of the city. The harbour currently supports around 60 thriving fishing vessels. It is one of the most important Cornish fishing harbours. You can enjoy the beautiful view of the sea and the busy harbour while you munch on that tasty fish and chips. There are many restaurants, pubs, and cafes near the Mevagissey harbour like Harbour Tavern and Sharksfin Bar & Restaurant where you can enjoy other tasty Cornish delicacies while taking in the view of the harbour.
The Lost Gardens of Heligan, one of the most popular attractions in the UK is in Mevagissey. Thought to be lost for more than seventy years, it was found in 1990 and was restored to its former glory. This garden will give you a sense of mystery and wonder as you walk through this beautiful attraction. Filled with beautiful and mysterious figures like the Mud Maid and the Giant's Head, plants from around the world and even some rare ones, there is so much to explore in this big garden. They even have their own productive gardens where they grow vegetables and fruits some of which are heritage.
Other attractions that you should visit are the Eden Project which is 30 mins away from Mevagissey harbour, the Aquarium, the World of Model Trains and the museum. There are other places in and around Mevagissey Harbour that are worth a visit like St Michaels Mount, Truro, and much more.
Charlestown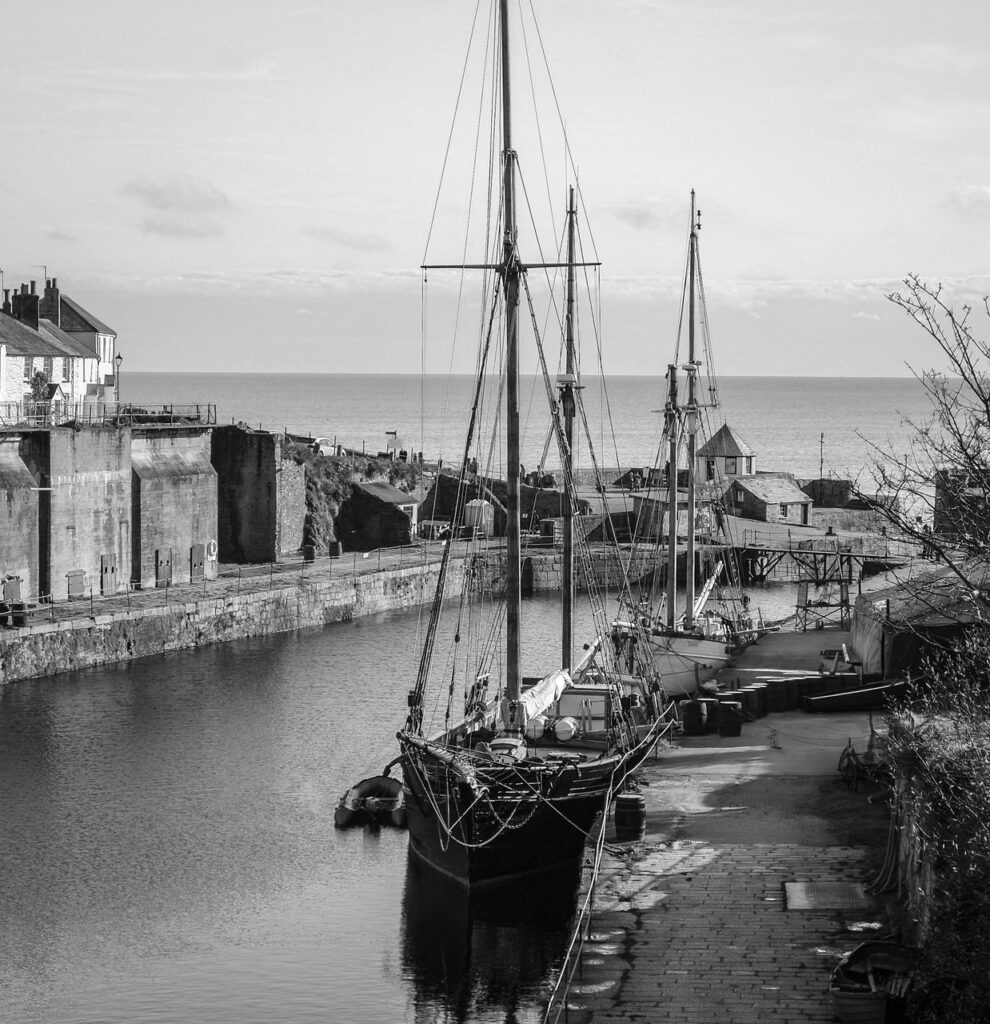 Located on the south coast, Charlestown is the most popular filming location in Cornwall. It has been featured in many films and TV shows like Alice in Wonderland, The Three Musketeers, Rebecca, Hornblower, Mansfield Park, Dr, Who, the most recent BBC series Poldark and more.
Other than being a filming location, it is also known for its untouched working Georgian port. Charlestown gets its name from its creator Charles Rashleigh. It was created in response to the booming mining industry.
If you ever wondered what a Georgian Town looks like, then you should visit Charlestown. As you walk around you will get a feeling that you time travelled to a Georgian Era town. You will see a lot of Georgian era houses, cottages, 19th-century warehouses and businesses, and many other centuries-old buildings. Charlestown is still a working harbour.
One of the main places to visit in Charlestown is the Shipwreck, Rescue and Heritage Centre. It is an interesting place to visit and you will get to see the nautical history of Charlestown over the years. You will find a lot of shipwreck salvages here.
All in all this Georgian Era port is worth a visit even if it's just to see where your favourite films or TV shows were filmed.
Mousehole
Described by Dylan Thomas as one of the loveliest villages in England, this quaint village is located between Penzance and Land's End at the southern coast of Cornwall. As you walk through the village, you will feel like you just stepped out of a time machine.
In 1595 the Spaniards burnt down the entire village apart from one house- the Keigwin House. Built in the 14th century, this house still stands in Mousehole.
You will find a lot of restaurants, shops, and galleries as you walk down the narrow streets of Mousehole. The tiny granite cottages just add to the charm of the village.
The sight from the harbour is pretty to behold. Just offshore from the entrance of the harbour, there is an islet, or rather a small cluster of rocks, called St Clement's Isle. If you walk a few yards along the coastline you will find the Mousehole Cave, which is possibly where the village got its name.
Dolly Pentreath, the last person to speak fluent Cornish, is from Mousehole. She died in 1777. A stone monument was erected in her honour in the St Paul Aurelian Church by Napoleon's nephew Prince Louise Bonaparte.
Mousehole is well known for its Christmas lights. These Christmas lights are switched on in the middle of December and stay on every evening. They do this until the first week of the New Year. These Christmas lights are famous throughout Cornwall and it is a beautiful sight to see.
If you like wandering around, there's much more to see in this quaint and picturesque village.
Port Isaac
Port Isaac, the lovely village located at the north of Cornwall, has been a fishing village since the early 14th century. It is one of Cornwall's well-known tourist locations. Port Isaac is also a popular filming location for TV and movies. It's best known for being the home of the famous Dr. Martin from Doc Martin, which went on for 9 seasons. Other TV shows and movies filmed here include Poldark, The Nightmare Man, Oscar and Lucinda, Saving Grace (Predecessor to Doc Martin), and most recently Fisherman's Friends, based on a true story.
Just like the other Cornish fishing villages Port Isaac has narrow streets. It can be difficult to navigate through the narrow streets with a car, so it is advised that you park it at the top of the hill. If you want to get to the harbour, it's easy. All you have to do is follow the narrow streets, as it will lead you straight to the harbour.
As you can walk through the narrow streets you will pass through old traditional granite slated and whitewashed houses. These houses were built centuries ago and are historically and architecturally important. Port Isaac is also home to one of the narrowest alleyways in Britain.
You can go for scenic boat trips or even go fishing from the harbour if you're here during summer. There are many interesting things to do and places to explore. You can walk around the village or from the hill to the harbour and enjoy the sights. Port Gaverne is a small hamlet around the corner from Port Isaac that is worth visiting.
Other fishing villages in Cornwall
These are only some of the picturesque villages that Cornwall has to offer. Some more honourable mentions are:
Polperro
This well preserved large village is another beautiful Cornish village. There are so many things to do, like walk around the coast path and take in the beautiful view, go fishing around the bay, enjoy the small sandy beach that Polperro has to offer, and swim in the natural tidal pool.
This charming village is well worth a visit at any time of the year, especially during summer.
Mullion
Located on the Lizard peninsula in the south of Cornwall, there is so much that you can do in this village. There are shops, restaurants, cafes, inns and galleries that you can explore, a golf course and a working harbour. You can go fishing in the fishing cove. There is a beach where you can enjoy with your family or go on relaxing walks. If you're a surfer, you can do that here too.
Sennen
A popular surfing spot and beach, this small coastal village is the best spot for surfers. Even though it is famous for its beach, it is also a working harbour. In the village, you will find thatched cottages and a few shops, cafes and a gallery. While you're here you should go to the Old Success Inn. This inn was built in the 17th century and is open all year long. The inn also has one of the best views for you to enjoy.
Fowey
Last but not least is Fowey. Fowey is another beautiful port located on the banks of the River Fowey. Fowey has many beautiful attractions and sites like the Tristan Stone, Hidden Valley Gardens, St Catherine's Castle, Fowey Museum, St Fimbarrus Church, Fowey Aquarium, and much more.
Fowey is also well known for its boat trips. It is a pretty sight to behold, riding along the Fowey Estuary.
Summing Up
Cornwall is a romantic, charming county with a lot of history and natural beauty. It is a place worth exploring. Who knows, a visit here might be the perfect stimulant to your creative talents, or just the relaxing vacation that you were looking for.