Travel
The Best Travel Apps for Android and iOS Of 2020
Traveling is an important factor in life, it gives relaxation and you can learn new things from it. But before starting traveling there is planning that you have to do like Book hotel, flight, and other much more things, however, to manage all these things is very tough and time-consuming but not with the smartphones. Just one click and you can do anything. Currently, there are thousands of applications available related to traveling in android and iOS play stores but installing every app and testing them is time-consuming and worthless. So to make your process easy, I have shortlisted some of the important traveling apps that are trending in 2020.
1. Airhelp
If you ever stuck with the flight delay or flight cancellation then Airhelp comes to place. It is a claim management company that enforces passenger rights against airlines in cases of flight disruptions. It helps customers for flight disruptions that fall under the clauses of Regulation (EC) No. 261/2004. AirHelp is deciding the eligibility of travelers from android, ios app or web forms. AirHelp has reportedly helped more than 10 million passengers claim compensation in over 30 countries.
So, if you are stuck with the flight disruptions, Airhelp would be a good option for that. One of the important advantages of Airhelp is, it's initially free, you have to pay after when you are eligible for a refund.
2. Duolingo
If you are planning to travel to foreign countries where English is an important language then you should learn some English before starting traveling. So This Duolingo application is the best way to learn English in a short time. Most importantly while you learn English on Duolingo it does not feel like a boring but it's like a game.
Moreover, with this application, you can not only learn English but you can also learn Chinese, Japanese, Korean, Spanish, French, German, Italian, Russian, Portuguese, Turkish, and many more languages, free!
3. Airbnb
Airbnb is also considered a popular travel app with that you can find popular places on the go or near to you, and access vacation home rentals, new experiences, and places to visit all around the world.
With this application, you can search for popular places, book a  hotel and flights.
4. Skyscanner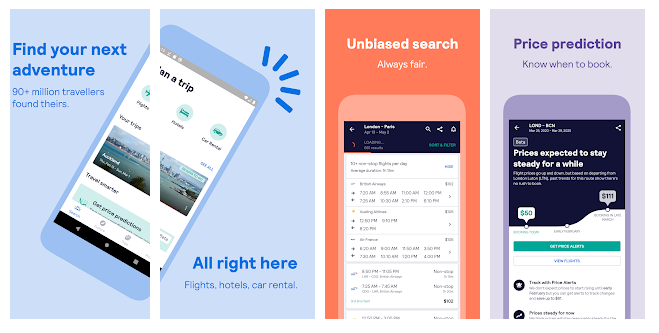 If you are a frequent traveler and looking for an app that gives all the things in one place then Skyscanner will be the best option for you. You can search for places, find hotels, book tickets, get a car on rent, book a fight and other more interesting things you can do with Skyscanner.
Choose when and where you want to get a car on rent, it will show you all the information. Also, you can make filters by vehicle type, fuel type, and features. And the Fair Fuel Policy flag will make sure that you're not paying too much for fuel—we've got your back.
For the flight it has a smart algorithm, when you search for a flight it will compare the price of the flight and show you the best result. Moreover, If you are not traveling then you can save flights to get the latest deals on flights then you will be notified if the best flight available for you.
5. Expedia
Expedia is another popular platform for travel enthusiasts, here you can find the best hotels at the best price, book a flight and get a car on rent. Expedia has been popular because of the best travel destinations list, and domestic destinations. More importantly, there are different travel deals available that you can choose according to your travel destinations. And if you are a member of Expedia you will get several benefits such as lower travel price, earn Expedia points every trip, free wifi, spa, and other credits.