Programming
Are Chatbots Potential to Facilitate Restaurant Software Solutions?
Written by Akash Kapadiya on
11 Mar, 2019 
0
Bots are replacing the human workforce consistently. Gartner predicts that by 2020, 85% of enterprise customer relationships will be managed without human interacting. As the current trending applications consider the millennial approach along with the most loved features which surely includes texting!
Nobody wishes to call and explain their queries until they need a discussion or have a complain, for everything else, texting works well! Talking about the restaurant industry, chatbots are racing at a higher pace but, the biggest challenge blocking the way is to make bots feel like humans a little more. So, how can chatbots be the potential companion for the restaurateurs? Here's a list of the best features which can boost the chatbot potential and use them for great benefits-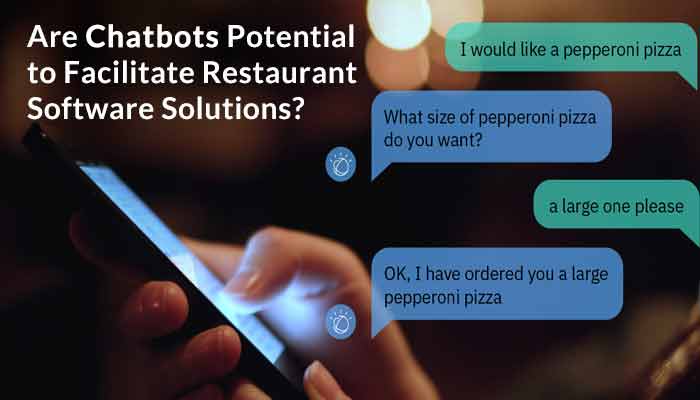 Using Natural Language Processing
We generally converse precisely while texting, consider the way you chat with your friends on an interactive platform, we tend to use a lot of slangs and casual language. Bots aren't trained for the slangs which makes the customer lose interest and limit the capability of the chatbot. However, implementing NLP can do a great favor to the brands audacious to retain customers and provide them the best information possible within the right frame of time.
What needs to be additionally kept in mind is that you need to keep a check upon chatbot analytics periodically. Having an idea frequently can let you fetch the bottlenecks or the areas where your bot doesn't perform well or getting confused to catch up with human language. As the internet slangs keep on updating frequently, your bot needs regular inputs and training sessions in order to stay well versed with the diverse human language. Most Restaurant Software Solutionsprovider coding program to train chatbot by putting low human efforts.
Using Sentiment Analytics
You cannot really expect patience from a user, especially the one frustrated with the services or and anything bothering. Your bots need to understand their feelings and respond accordingly, well, that sounds pretty impractical! Implementing Sentiment Analytics can teach your bot to understand a user's state of mind, prioritize the issues as per the complexity and answer the user in a tone which doesn't sound robotic and help the user feel that your brand values customer queries and complaints.
User Experience is the Key
Interactions can be the best when they are termed as personalized! A user tends to repeat their orders when they find better offers, deals and mostly being valued as a loyal customer. In the case of human interaction, a person resolving customer queries and providing required information can fetch the necessary data about the user and improve their overall experience. Exactly how it goes, make your chatbot understand the user at a deeper level from the already supplied data along with a log of their repeated orders. Feeling recognized for being a regular customer makes the user more interested in ordering from your restaurant and ultimately convert them as your loyal customers. For better performance, you can script the bot to begin a conversation by reminding the user of where he left the last conversation.
Follow a Single Tone
Talking to a chatbot which shuffles frequently is often annoying. Imagine talking to a person for a period of time and suddenly having a change of tone, doesn't that sound disconnect? A chatbot should be following a single tone throughout the conversation, a user should feel he is talking to the same person throughout the chat and not a combination of 2-3 people responding to the queries or having a robotic feel while in conversation. For better usability, your bot should be able to provide multiple responses to a single query, this makes the interaction more user-friendly and relatable.
Analytics to Check Functioning
Enhancing chatbot conversations is harder than just implementing it initially! Well, you might see the dropping performance or fewer impressions but the good part is that you can still amend it and get the chatbots in sync with the kind of language you need your chatbot to function on. There can be two major factors affecting the user experience-
Errors in understanding the processing language
Bot or the user repeating itself multiple times
In both cases, there is a need for analytics to understand what's blocking the path. It can be either the lack of bot training for processing natural human language or a better grasp of how the bot is collecting and remembering the data to further process it. By a quick analysis, you would have a complete idea of the spot which needs the maximum attention. Begin to conduct revision sessions with the help of analytics, especially in terms of tones and conversational skills.
Understand your targeted audience and let your chatbot work exactly how your customers require them to reply. Ask your chatbot solutions provider to get you the best-suited bot for your business.
Humans can rest as the chatbots are set to work!